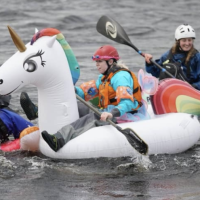 Sports, Clubs & Societies
Life outside the classroom is an important part of a Maynooth Education and you can learn plenty by challenging yourself against your peers on the sports field or the gaming table. We have presentations and videos below for you to see what's available.
Clubs and Societies are already preparing for the return to university life later this month. There are currently over 100 clubs and societies – something for everyone, no matter who you are or what your tastes, there will be a club/society to suit you. From developing existing skills, trying something different and making new friends, joining a club or society is one of the best things you can do. Clubs and Societies are student run and are a vital part of the student experience here in Maynooth University.
MSU – Maynooth Students' Union
The MSU Student Centre is your ultimate student haven! Inside, you'll stumble upon the Your Space Common Room, SU Bar, and SU Venue, all tailored just for you. Swing by our Front Office for an array of student-exclusive services, including a student-friendly shop (Londis) and our handy Pantry in the John Hume Building. We're all about making your student journey better, with cool stuff like an entertainment lineup and meeting spots for student squads.
Here at Maynooth Students' Union our mission is to ensure you embark on a journey of student life like no other. We are your advocates, and your go-to crew for all things student life. Picture us as your guides, dedicated to ensuring every moment you spend here is nothing short of amazing. From exciting events to essential services, we've got your back every step of the way. MSU is all about you, and we're here to make your time at Maynooth unforgettable.
Get ready for an awesome lineup of events courtesy of MSU which will be , geared to roll out the Maynooth welcome mat for you. Before you even step foot on campus, MSU's got your back, helping you navigate the lay of the land and settle into campus life like a pro. Curious about what we do and how you can dive in? Come on over and join the fun!
MUSE Awards
Recognising & Rewarding our Students. Whilst at MU, you are gaining skills from every area of your life. The Maynooth University Student Experience (MUSE) Awards recognise and reward your contribution to non-credit bearing activities such as work experience, volunteering, club and society involvement, student representation and lots more! As well as being a fantastic addition to your CV, this Award will help you to articulate the skills you develop on your journey towards becoming a distinctive Maynooth student and future graduate.
"It is my job to ensure that your rights are upheld within the university, as well as on a local and national level. In short, I try to ensure that you have the best possible experience as you undergo your Maynooth journey… "
Alex Balfe, MSU President 2023/24
New Maynooth University App
We have just launched our new app and we'd love you to try it out. Features include way-finding to get around campus, information on clubs and societies, places to eat, IT, Wifi and security information and News and Events. We have plans to roll out many more features so be the first!